Choosing Curtain Dry Clean Or Laundry Clean?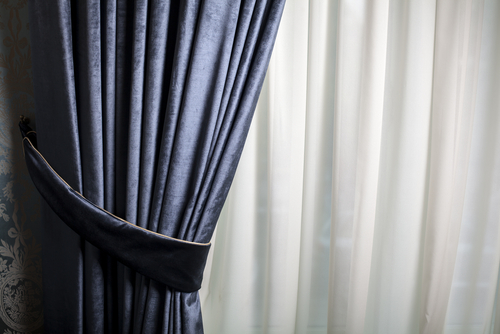 Curtains collect dirt and moisture when the windows are open. Dust from the ceilings fans and air vents also tend to settle down on curtains. Any dust circulating in the air tends to accumulate on curtains as well.

It is impractical to wash curtains and draperies frequently. Frequent washing can also destroy the fabric. Curtain cleaning can be easily accomplished by dusting or vacuuming them regularly. Feather dusters, dusting cloths, using a vacuum cleaner with an appropriate attachment, using a damp cloth etc.

To the question, 'should the curtains be dry cleaned or laundry cleaned?' the answer is to first check out the manufacturer's label for cleaning instructions. Curtains can be steam, dry or machine cleaned. They can even be hand-washed by putting them in a bathtub and using a mild detergent. However, this method of curtain cleaning is possible if the curtains are not too dirty and if they are not very bulky.

Curtain Laundry Cleaning
Care has to be taken to clean curtains that are machine washable. The curtains may be made with a combination of materials that may require specific points to be taken care of. For example, if the curtain has undergone a flame retardant treatment then, with a wrong wash, the quality of the cloth may be compromised. Ensure that metal rings, hooks, metal fittings, or weights are removed prior to washing. Also, make sure to loosen any of the tape strings that may be present.

It is best that the curtains are washed using the delicate cycle. Wash using lukewarm water if the curtains are soiled heavily. If not cold water is the best choice to keep them from shrinking and in maintaining the quality of the drapery. Use a mild detergent that will keep colors from fading. Ensure that you machine dry the drapery only for a short while (say 10 to 12 minutes) to avoid wrinkles. It is a good idea to dry them in the machine till they are only slightly damp. They can they be hung out on the clothesline. Using fabric softeners on curtains may cause stains to appear.

Curtain Dry Cleaning
If the manufacturer's instructions recommend that the curtains be dry cleaned, then it is best that the directions are followed. Generally, such a curtain cleaning facility is available with those who provide curtain cleaning services and is performed off-site. It is important to choose a dry cleaner of repute who knows how to dry clean curtains in the right manner. It is always recommended that curtains with linings be taken to the dry cleaners.

Curtains always shrink after a dry-cleaning session. This is because dry cleaning is not a dry process, but because it uses a solvent other than water. Such a solvent removes oily stains and some natural fibers do not shrink when a solvent is used. A specialist dry cleaner will have the necessary pressing equipment to stretch them back to normal length after the cleaning process.

In case the draperies are too faded or too dirty, curtain cleaning may not be effective and it is a good idea to replace them right away.

Related:

One Stop Home Services In Singapore

Window Blinds Singapore

Roller Blinds And Roman Blinds

Professional Upholstery And Carpet Cleaning

Why Some Air Conditioner Have Water Leaking Problem

How To Select Curtains In Singapore

Renovation Contractor In Singapore

Home Painting Ideas

Benefits Of Invisible Grilles

Pest Control In Singapore

The Benefits Of Domestic Cleaning Service

Benefits Of Clean Sofa And Mattress

Marble Polishing in Singapore

E Home Services - One Stop Home & Office Solution

Choosing Aluminium or Wrought Iron Window Grilles

How to select a reliable interior design company in Singapore

Benefits Of Office Blinds

Selecting Different Types of Carpet Cleaning

Choosing The Right Cleaning Company In Singapore

Benefits Of Bamboo Flooring

How Long Should We Service Our Aircon?

Singapore Part-Time Maid & Full Time Maid

Why Pay More Instead Of Using Freelance Part Time Cleaner?

Why Use Interior Design Company?

Where Can I Find Licensed Reliable Movers in Singapore?

Selecting Carpet For Offices

The Benefits of Painting Our Home

Singapore House Cleaning Service

What Are The Benefits Of Aircon Chemical Wash?

Selecting Dry Carpet Clearing Or Carpet Shampoo

Selecting Professional Carpet Cleaning Company in Singapore

Why My Aircon Suddenly Not Cold Anymore?

Why You Should Hire A Spring Cleaning Company To Do Your Spring Cleaning?

What Are The Benefits And Differences Between Curtains And Roller Blinds?

Is It A Must To Tip The Part Time Cleaners?

What Are The Benefits Of Installing Curtains And Blinds In Your Home?

The Countless Benefits Of Hiring A Spring Cleaning Company

Spring Cleaning Checklists For 2013

Top 10 Tips On Vinyl Flooring Cleaning

Why You Should Always Service Your Aircon On Time?

Singapore Leading Curtain Cleaning Company
I was referred by my friend for curtains and blinds and they did a great job, so i decided to service my aircon here as well. Now i am using their part time maid services and all i can say is that they are good at they certainly knows what they are doing. Well done guys.
Mr Ricky Tan


This is truly the one stop home services. I got my office painting job, weekly cleaning services and aircon servicing all done here and so far i am very pleased with the results. Thanks for the excellent work and great prices you offered.
Mr Charles Toh
IT Support Consultant


We are moving our house from Tembeling Road to Flora Drive and was given an onsite quote. We took up their moving service and found out that they are also doing painting, curtain, aircon servicing and other home services. We are on a contract basis with their part time maid service and also took up their aircon servicing for yearly package. We are very pleased with their service. Highly recommended.
James Lim
Flora Drive