Why Air-con Not Cold Anymore?
Aircon suddenly not cold anymore? In a hot and humid country like Singapore, an air-conditioner is quickly becoming a staple in households, offices and shopping centre. Almost every household in Singapore has an air-conditioner. The air conditioner is a device designed to dehumidify and extract heat from the area through a refrigeration cycle. This results in the area being cool.

A regular air conditioner consists of a few major components which are the evaporating unit, condensing unit, expansion valve and compressor, and other components such as a thermostat and an onboard filter.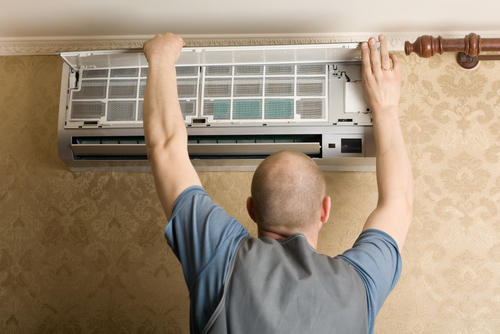 How does an air conditioner work? Basically, it uses all the major components as mentioned earlier to exploit a basic physics principal called "phase conversion" and putting a refrigerant (usually a chemical compound) through the refrigeration cycle.

Firstly, the low pressure evaporating unit, which is placed inside the area you want to keep cool, absorbs heat from the area. The refrigerant inside it absorbs the heat, changing it from a liquid state to a gaseous state. To reuse the refrigerant, it has to be converted back to liquid state to repeat the process. Thus, the gaseous refrigerant has to go through the compressor, putting it under high pressure and undergoes an exothermic reaction. The excess unwanted heat is expelled outdoors through the condensing unit and the refrigerant changes state once again from gas to liquid. The process is then repeated to continually keep the room cool. The expansion valve is placed in between the evaporating and condensing unit to regulate the refrigerant flow into the evaporating unit.

However, at times, it may seem like the air conditioner is not functioning well. It is no longer cooling the area.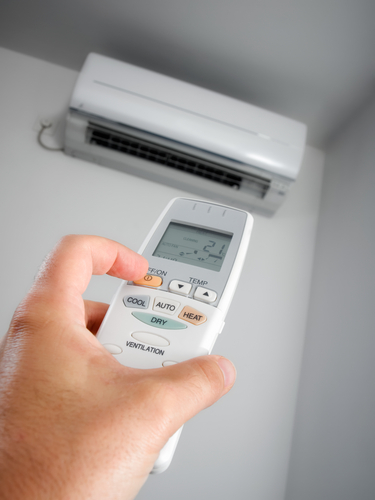 Why is this so? This can be attributed to a few of reasons.

The first reason is due to the air conditioner being old. An average lifespan of an air conditioner is about 15 years and it requires regular preventive maintenance to prolong its lifespan and allowing it to perform efficiently. If your air conditioner is over 15 years, it is probably high time to get a replacement.

The second reason is dirty air conditioning components, which results in reduced efficiency of the air conditioner. Things such as a clogged air filter or fan motor clogged with dust (which prevents cool air from being released) creates inefficiency within the air conditioning system and may result in less than ideal cooling of the room. Even worst, they may overwork the air conditioner and thus shortening the lifespan of it. As stated above, it is always good to regularly clean the air conditioner and undergo maintenance to keep it in tip top condition so as to maximize efficiency.

A third reason could be due to faulty parts in the air conditioner. The last reason could be due to a mismatch in adjustment of the air conditioner to the surroundings. Utilize the settings to switch to a cool temperature suitable to the user. If this still fails, a possibility is that the installed air conditioner is undersized and not suitable for the room.

It is necessary to customize and find a suitable air conditioner to fit the surrounding and it may take some time to look for the right one. However, it is worth the trouble as it will keep you cool and save you money in the long run in terms of cost efficiency.



Also Read:
Why My Aircon Got Water Leaking Problem
How Long Should We Service Our Aircon Again?



Related Articles

One Stop Home Services In Singapore

Window Blinds Singapore

Roller Blinds And Roman Blinds

Professional Upholstery And Carpet Cleaning

How To Select Curtains In Singapore

Renovation Contractor In Singapore

Home Painting Ideas

Benefits Of Invisible Grilles

Pest Control In Singapore

The Benefits Of Domestic Cleaning Service

Benefits Of Clean Sofa And Mattress

Marble Polishing in Singapore

E Home Services - One Stop Home & Office Solution

Choosing Aluminium or Wrought Iron Window Grilles

How to select a reliable interior design company in Singapore

Benefits Of Office Blinds

Selecting Different Types of Carpet Cleaning

Choosing The Right Cleaning Company In Singapore

Benefits Of Bamboo Flooring

Singapore Part-Time Maid & Full Time Maid

Why Pay More Instead Of Using Freelance Part Time Cleaner?

Why Use Interior Design Company?

Where Can I Find Licensed Reliable Movers in Singapore?

Selecting Carpet For Offices

The Benefits of Painting Our Home

Singapore House Cleaning Service

What Are The Benefits Of Aircon Chemical Wash?

Selecting Dry Carpet Cleaning Or Carpet Shampoo
Aircon Solving Tips - E Home Services
I was referred by my friend for curtains and blinds and they did a great job, so i decided to service my aircon here as well. Now i am using their part time maid services and all i can say is that they are good at they certainly knows what they are doing. Well done guys.
Mr Ricky Tan


This is truly the one stop home services. I got my office painting job, weekly cleaning services and aircon servicing all done here and so far i am very pleased with the results. Thanks for the excellent work and great prices you offered.
Mr Charles Toh
IT Support Consultant


We are moving our house from Tembeling Road to Flora Drive and was given an onsite quote. We took up their moving service and found out that they are also doing painting, curtain, aircon servicing and other home services. We are on a contract basis with their part time maid service and also took up their aircon servicing for yearly package. We are very pleased with their service. Highly recommended.
James Lim
Flora Drive