Singapore Part Time Maid & Full Time Maid
Having a Part Time maid gives one the freedom and the hassle of a maid staying with you at home. But most importantly you can trust them to finish their job effective and efficiently even though you are not at home. The part time maid just comes in and cleans your place that you wish to. They will be right at your door steps when you need them to come and as frequent as you want them to come. Yet you are able to enjoy freedom of privacy without having the maid to stay at your place. There is totally no invasion of privacy if you are the type that likes to have your own privacy, part time maid will be your best solution!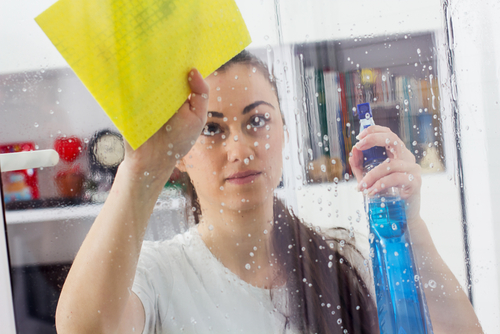 It is advisable to seek help from profession house cleaning company, as they will do a background check on their cleaners. It is illegal to hire foreign workers, "freelance part-time cleaner" for maid service in Singapore. Always check for work permit before allowing a domestic cleaner to enter your place. Never trust part time maid agency who claims their maids are the best and all their cleaners are holding work permit, always do a check. Singapore Part Time Cleaning Services has got some PRC & Pilipino cleaners which are holding legal work permits in Singapore.

Thinking of cleaning up your home or office? Professional house cleaning company knows the steps and how to clean your environment with devotion and attention, providing you with a hassle-free experience. They will provide legal cleaners right to your doorsteps subject to your availability. They offer a wide range of services to help to maintain your environment, from taking care of general house cleaning to simple necessities such as ironing, cleaning of windows and etc. to ensure cleanliness and hygiene. If you are unhappy with the maid, companies allow you to change the maid for the next sessions, with or without charges and limits of changing depending on company's policy. Leave it to them; they will surprisingly transform your area into pinnacle of comfortable cleanliness.

Having a full time maid could be an advantage or disadvantage. Having a full time maid might not be your ideal choice. If you are about to engage a full time maid, you might be worried whether you can trust the maid to be at home by herself. Her behaviour might not be acceptable as in she might be in a love relationship without you or your family, etc. knowing and who knows? She might even be pregnant after a period of time. You will also be responsible to provide her with 3 meals a day and all her basic necessities. At times if you felt that you do not trust your maid anymore because her behaviour is getting worse, you want wish to change maid, but the process is a hassle. Having a good full time maid is important but not all full time maids are bad. There are quite good ones as well.


Conclusion, whether part time maid or full time time is your ultimate choice, we should all treat each and everyone with respect. Learn to live in harmony with your maid. Give them your best and they will return you with their best too!



Who is Responsible for Domestic Workers?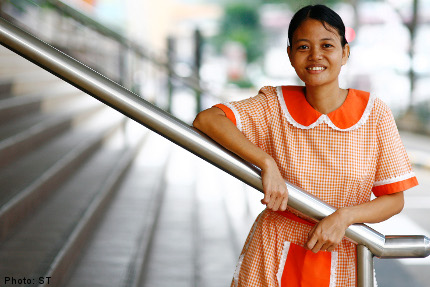 Here in Singapore, engaging the assistance of a domestic helper is not unheard of. According to an online article published by AsiaOne in 2010, one in every seven Singaporean households has a helper. The Labour Force Report by the Ministry of Manpower (MOM) also stated that Singapore has the third highest number of Foreign Domestic Workers (FDW), with a majority of them hailing from Indonesia or the Philippines. The primary reason behind this increasing employment rate is apparently the steady increase in the number of women who are joining-or rejoining-the workforce in Singapore.

The tasks performed by these domestic helpers vary in nature; they include taking care of the employer's home, children and elderly parents. Some are even entrusted with kitchen duties. While their usefulness is evident, it cannot be denied that there have been reports of undesirable behaviour displayed by these workers. One of them was arrested for stealing a sum as hefty as S$26,418 from a previous employer, while another was charged for the bizarre crime of adding menstrual blood into her employer's drink.

Who then, becomes responsible for the crimes committed by the domestic worker? Is it the employer or the cleaning company that represents them? The answer lies in the contract that has been drafted by the company. Domestic helpers-local or foreign-are not covered by the Employment Act, which stipulates the conditions of service, such as the mandatory number of working hours and rest days. This is because regulating specific aspects of domestic work is not practical. For instance, it is difficult to compute overtime payments for domestic workers as defining what constitutes work or free time is virtually impossible, regardless of whether the helper works full-time or part-time.

Thus, MOM has encouraged employers and the FDW to enter into a written contract, after they have successfully applied for mandatory Work Permit which is valid for two years. The cleaning company would then be responsible for drafting mutually agreeable contracts for the two parties involved, in order to avoid any conflicts in interest. In an undesirable situation where there is an employment problem or breach of contract by the employer, the domestic helper has the right to lodge a complaint or file a claim with MOM. MOM will then be compelled to contact the employer and arrange for a meeting between the parties involved to resolve the dispute. This conciliation service is offered pro-bono.

However, if the FDW was the wrongdoer and the employer feels that the crime which had been committed is too heavy to be disregarded or resolved in a diplomatic manner, he/she can choose to terminate the domestic worker's services. To do so, the employer needs to ensure that all matters pertaining to the worker's employment, such as outstanding wages or compensation claims, have been properly settled before the cancellation of the Work Permit. Additionally, reasonable notice of the inevitable repatriation to the worker's home country must also be given, with the full cost of it to be beared by the employer.

Related Articles

Why E Home Services Is The Leading Part Time Maid Agency in Singapore?

One Stop Home Services In Singapore

Window Blinds Singapore

Roller Blinds And Roman Blinds

Professional Upholstery And Carpet Cleaning

Why Some Air Conditioner Have Water Leaking Problem

How To Select Curtains In Singapore

Renovation Contractor In Singapore

Home Painting Ideas

Benefits Of Invisible Grilles

Pest Control In Singapore

The Benefits Of Domestic Cleaning Service

Benefits Of Clean Sofa And Mattress

Marble Polishing in Singapore

E Home Services - One Stop Home & Office Solution

Choosing Aluminium or Wrought Iron Window Grilles

How to select a reliable interior design company in Singapore

Benefits Of Office Blinds

Selecting Different Types of Carpet Cleaning

Choosing The Right Cleaning Company In Singapore

Benefits Of Bamboo Flooring

How Long Should We Service Our Aircon?
The Ultimate Part Time Maid Guide
I was referred by my friend for curtains and blinds and they did a great job, so i decided to service my aircon here as well. Now i am using their part time maid services and all i can say is that they are good at they certainly knows what they are doing. Well done guys.
Mr Ricky Tan


This is truly the one stop home services. I got my office painting job, weekly cleaning services and aircon servicing all done here and so far i am very pleased with the results. Thanks for the excellent work and great prices you offered.
Mr Charles Toh
IT Support Consultant


We are moving our house from Tembeling Road to Flora Drive and was given an onsite quote. We took up their moving service and found out that they are also doing painting, curtain, aircon servicing and other home services. We are on a contract basis with their part time maid service and also took up their aircon servicing for yearly package. We are very pleased with their service. Highly recommended.
James Lim
Flora Drive