How To Select a Licensed Moving Company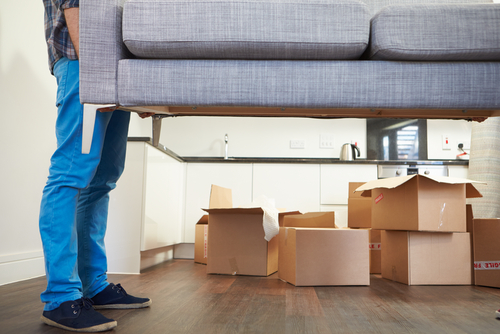 How To Select a Licensed Moving Company

Looking for licensed moving company? Moving house is definitely one of the most tiring and labour intensive times in our personal lives! In the past, we would gather our family members, friends and relatives to lend us a hand when we moved to our new home. This is followed by a hearty feast to celebrate our move and to thank those who helped us in getting the mission accomplished. Nowadays, with nuclear families and hectic lifestyle, such help is hard to come by.

What do you do now if you need to move to a new place soon - home or office?

A few questions to ask yourself:

1. What if someone recommended you some workers to help you move cheaply? You decided to take it up because of a tight budget.

2. Did you find out if they can help you to co-ordinate the move?

3. Did you find out if they are able to protect and move your bulky items in an efficient and careful manner?

4. Do you know if they are aware of any requirements prescribed by the building management of your private apartment or office building?

5. What happened if there are damages to the common property and claims are sought by the building management? If these are unlicensed moving company which are unfamiliar with the requirements of the building management and took no necessary precautions during the move, you would have to bear the brunt of the risks and claims.

To avoid having to bear all risks, it is only wise to select a licensed moving company. You should be concerned if the mover is licensed or not as these workers are handling your precious personal or office property as well as entering into your private compounds.

To be licensed, these mover companies have to register with the Accounting and Corporate Regulatory Authority (ACRA), the national regulator of business entities. These companies can operate as a Limited Liability Partnership (LLP) or Private Limited Company etc. They have to provide the name of business, nature of business, place of business, name, identification, nationality and the usual place of residence of every person / partner / major shareholder responsible for the management of the business etc. Once you are assured that they are running a lawful business regulated by the authorities and managed by persons with financial means (i.e. not un-discharged bankrupts), you can relax if you hired them as you know that your interests are protected. Besides, you can expect them to adopt standard operating procedures as well as having the necessary expertise to handle any type of property properly. They are professional and also have the knowledge of the requirements prescribed by the building management and be able to manage claims, if any. To protect their own business, they ought to have bought appropriate insurance to cover any risks that may arise in this line of business.

How do you know if the mover you enlisted is a licensed one? You can ask the company to provide proof or you can perform an online directory search in the ACRA website here. If the mover company is registered and active, a "live" status will be displayed. So instead of saving just a little cost but with possible unlimited downside risks, make sure you choose a moving company that is a licensed one for an efficient, perfect and risk-free move!





Related Articles

One Stop Home Services In Singapore

Window Blinds Singapore

Roller Blinds And Roman Blinds

Professional Upholstery And Carpet Cleaning

Why Some Air Conditioner Have Water Leaking Problem

How To Select Curtains In Singapore

Renovation Contractor In Singapore

Home Painting Ideas

Benefits Of Invisible Grilles

Pest Control In Singapore

The Benefits Of Domestic Cleaning Service

Benefits Of Clean Sofa And Mattress

Marble Polishing in Singapore

E Home Services - One Stop Home & Office Solution

Choosing Aluminium or Wrought Iron Window Grilles

How to select a reliable interior design company in Singapore

Benefits Of Office Blinds

Selecting Different Types of Carpet Cleaning

Choosing The Right Cleaning Company In Singapore

Benefits Of Bamboo Flooring

How Long Should We Service Our Aircon?

Singapore Part-Time Maid & Full Time Maid

Why Pay More Instead Of Using Freelance Part Time Cleaner?

Why Use Interior Design Company?
I was referred by my friend for curtains and blinds and they did a great job, so i decided to service my aircon here as well. Now i am using their part time maid services and all i can say is that they are good at they certainly knows what they are doing. Well done guys.
Mr Ricky Tan


This is truly the one stop home services. I got my office painting job, weekly cleaning services and aircon servicing all done here and so far i am very pleased with the results. Thanks for the excellent work and great prices you offered.
Mr Charles Toh
IT Support Consultant


We are moving our house from Tembeling Road to Flora Drive and was given an onsite quote. We took up their moving service and found out that they are also doing painting, curtain, aircon servicing and other home services. We are on a contract basis with their part time maid service and also took up their aircon servicing for yearly package. We are very pleased with their service. Highly recommended.
James Lim
Flora Drive