Spring Cleaning Checklists 2013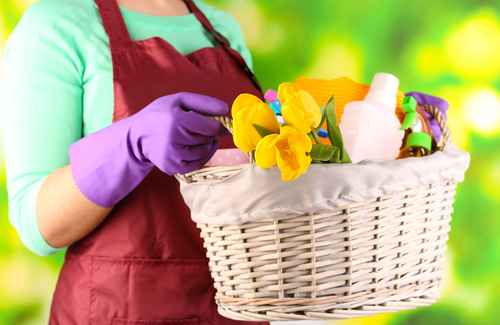 Your Spring Cleaning Checklists For 2013

Spring Cleaning Checklists for 2013 - The perfect way to plan for cleaning the house this spring. With spring just some days away, individuals have started to plan for the spring cleaning of their much beloved homes.

A clean home is the best way to show how the individual maintains himself and enhances his personality. Before engaging on with the spring cleaning, it is always advisable for individuals to have their own spring cleaning checklist so that they are sure that everything is in place and nothing is left untouched. A proper checklist for the forthcoming spring of 2013 is sure to make the house sparkling clean and get laurels from neighbors, friends, relatives and colleagues.

2013 Spring cleaning checklist
This is the best time to confront the clutter. By being a little more organized, this tedious task of confronting the clutter becomes quite manageable. Once, the clutter is conquered, the process of cleaning becomes quite easier and have the rooms in shape. Another aspect is dusting. The furniture and fixtures easily catch dirt during the long winter and it needs to be on the spring cleaning check list. The curtains are the next thing that needs a good look. They are to be taken off and thrown into the wash or at the dry cleaners.

Window Grilles, Curtains & Blinds
The window grills, blinds and screens need to be wiped and cleaned properly. The walls are the next thing to be taken care of. Families that have children might have walls that are dirty due to stains from painting or from other spots, which would look very dirty. There might also be cobwebs here and there that would require cleaning. Another important place is the bed room.

Upholstery
The beds, mattress, sofa and rugs need to be taken off and cleaned properly. Neglecting them would only invite the bed bugs which would be harmful for the health of the entire family. They should be properly cleaned and taken care of.

Flooring
Various types of flooring surface require different kinds of care based on the recommendations of the manufacturer. The owner should take adequate care in using the right mix of ingredients for cleaning the floor to avoid scraping marks and other spots from being left over and thus spoiling the entire show of the floor.

Kitchen
The kitchen is the most important place of the house and needs special care. This is the place where food is cooked and hence, needs to be hygienic. Also the entire family meets here during dinner and lunch to have their food and discuss on different matters related to their family or the outside world. Hence, the different equipments and fixtures present here, including the walls and sink should be cleaned properly.

Toilets
Washrooms and toilets should be cleaned properly and given adequate attention. It is advisable to use the right chemical to clean the toilet. Spray the chemical inside the toilet walls and let is sit for awhile before scrubbing those stubborn stains off. The tiles of the toilets needs to be clean thoroughly too.

Everywhere Else
Even the surroundings of the house, should not be neglected. The unwanted plants and shrubs and weeds should be removed, pipe lines and drainage system thoroughly cleaned. Old unwanted things should be extracted and the garbage should be removed properly keeping in mind the environmental hazards. Thus, armed with a proper spring cleaning checklist it is very much possible for the owners to have their house sparkling clean.



One Stop Home Services In Singapore

Professional Upholstery And Carpet Cleaning

Why Some Air Conditioner Have Water Leaking Problem

The Benefits Of Domestic Cleaning Service

Benefits Of Clean Sofa And Mattress

Marble Polishing in Singapore

E Home Services - One Stop Home & Office Solution

Selecting Different Types of Carpet Cleaning

Choosing The Right Cleaning Company In Singapore

How Long Should We Service Our Aircon?

Singapore Part-Time Maid & Full Time Maid

Why Pay More Instead Of Using Freelance Part Time Cleaner?

Why Use Interior Design Company?

The Benefits of Painting Our Home

Singapore House Cleaning Service

What Are The Benefits Of Aircon Chemical Wash?

Selecting Dry Carpet Clearing Or Carpet Shampoo

Selecting Professional Carpet Cleaning Company in Singapore

Why My Aircon Suddenly Not Cold Anymore?

Why You Should Hire A Spring Cleaning Company To Do Your Spring Cleaning?

What Are The Benefits And Differences Between Curtains And Roller Blinds?
Singapore Leading Part Time Cleaner
& Spring Cleaning Services
I was referred by my friend for curtains and blinds and they did a great job, so i decided to service my aircon here as well. Now i am using their part time maid services and all i can say is that they are good at they certainly knows what they are doing. Well done guys.
Mr Ricky Tan


This is truly the one stop home services. I got my office painting job, weekly cleaning services and aircon servicing all done here and so far i am very pleased with the results. Thanks for the excellent work and great prices you offered.
Mr Charles Toh
IT Support Consultant


We are moving our house from Tembeling Road to Flora Drive and was given an onsite quote. We took up their moving service and found out that they are also doing painting, curtain, aircon servicing and other home services. We are on a contract basis with their part time maid service and also took up their aircon servicing for yearly package. We are very pleased with their service. Highly recommended.
James Lim
Flora Drive