6 Things You Should Know About Curtain Cleaning
Curtains are probably the most attention grabbing thing in your house. They not only provide protection from sunlight and dust to your house but also make your room beautiful, lively and attractive. Especially in countries like Singapore, there is possibly no one who does not want to decorate their room with expensive curtains that matches with your wall decor and furniture. 6 things you should know about curtain cleaning are:

1. A regular curtain cleaning is vital

Cleaning the curtains regularly is far better than cleaning them once in a while. Regular cleaning keeps your curtains bright and free from dust. Constant accumulation of dust may result in discoloration or staining in the curtain fabric making them look unattractive and dirty. Moreover, cleaning them when they are excessively dirty does not make them as beautiful as they initially were. So regular cleaning is important to keep them looking good and save your money needed to replace them completely.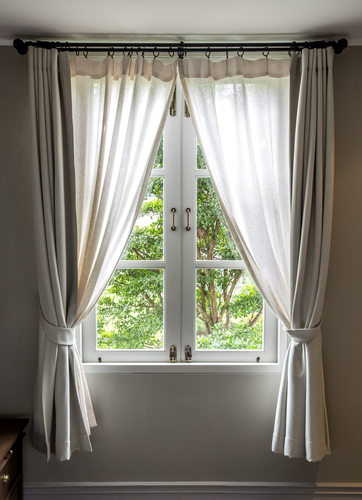 2. Determine the type of curtain fabric

Before cleaning your curtains, it is important to determine which fabric it is made up of. Decorative curtains are often made of delicate fabric that gets ruined by even delicate machine wash. A hand wash or a dry clean is a better option for cleaning such curtains. If you are not sure of which way to choose to clean them, try contacting experts from any curtain cleaning services in Singapore to get a clear picture of what is needed.

3. Check the washing instructions

Washing instructions are always labeled with your curtains and it is always better to read them carefully to avoid any surprises that may result from washing. Different fabrics require different modes of cleaning and if followed properly will keep your curtains away from possible damage due to any negligence.

4. Dry cleaning

Dry cleaning is the best way to get your curtains cleaned. It not only removes dirt and but also adds a glaze to your curtains. It is mess free technique to get your curtains as clean as new ones, each time. Moreover, they are very delicate to the fabric and keep it as it is.

5. Special care for lined curtains

Lined curtains need special attention while cleaning and may require frequent cleaning. Machine wash is a big no-no for this kind of curtains as you may see bad results and probable damage to the delicate fabric. Dry cleaning them is the only solution to keep them clean and shiny.

6. Other cleaning options

Apart from these, you may try other cleaning options to keep your curtains in a good condition. A regular dusting with the help of a brush or vacuuming them once in a while can keep them clean and might require minimum detailed cleaning. A hand wash with a gentle detergent also works best for most of the fabrics but it is essential to read the labels before hand washing.


Maintaining the curtains properly is one thing that most people neglect. It is always better to keep curtains clean rather than replacing them when dirty. Keeping dirty curtains is even harmful if you have kids at home. They usually tend to touch the curtains every now and then gets harmful germs deposited on them. Curtain cleaning not only saves money but also checks the health of the family members staying in the house.
Also Read:

4 Benefits Of Hiring Carpet Cleaning Company

6 Ways To Find The Best Carpet Cleaning Service in Singapore

8 Money Saving Tips On Dry Cleaning Service

How Often Should Office Carpet Cleaning Be Done?

How Often Should You Service Your Aircon Condenser?

Hot Water Extraction Carpet Cleaning VS Carpet Shampooing Service

Why Choose E Home Services As Your Carpet Cleaning Company?

How To Remove Carpet Stains?

7 Tips On Professional Spring Cleaning

How To Find Part Time Cleaners in Singapore?

5 Tips On Choosing The Right Rug Cleaning Company

5 Tips On Removing That Unwanted Carpet Stains

What Dirty Carpet Can Cause To Your Health?

Singapore Leading Curtain Cleaning Company