What Is The Suitable Color To Paint Your Bedroom?
Painting Tips for Bedroom Painting Service in Singapore

Overview

An Asian-inspired theme in home decorating usually requires a minimalistic approach in design. The key element in any Asian decor is the clutter-less feeling of tranquility and calm. In general, the colors that are used are earth inspired with a tinge of either white, black, red and purple. The use of colors in room painting follows:

1. Red - a color that is used mostly in Asian themed rooms. It can be used in the living and dining room area as well as in the bedroom. This color should not be in bright primary colors, but of a brownish hue that is more or less like maroon.

2. Black - black can be used in the bedroom but should be contrasted with lighter colored furnishings and linens. A completely black wall can overwhelm a room; other walls should then be painted white to serve as contrast to the black wall. Furnishings can be mounted against it such as a red sofa or curtains to make it more appealing. Putting red silk curtains in a deep painted black wall can set off the color scheme - hence, make it more dramatic.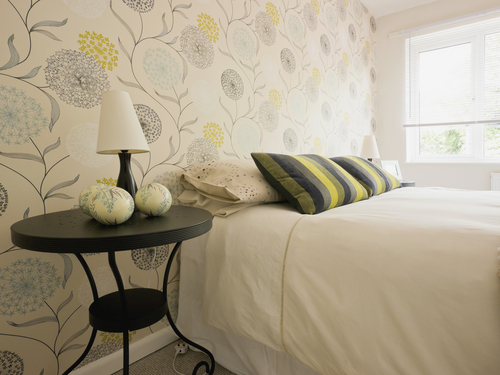 3. White - white is not generally used in Asian rooms since it signifies mourning. It can serve as accent to an Asian-themed room with primary colors to set the contrast. White generally signifies class and luxury, but must be used sparingly since it denotes something morbid to Asians especially the Chinese.

4. Purple - these color can be used as a dominant theme for any Asian themed room or as accent color. Stenciled designs of this color on furnishings like center tables, can make the settings come alive.

5. Pink - this color is normally associated with cherry blossoms and may be used for stenciled designs on walls and furnishings. The color pink usually creates a warm feminine touch to any room.

6. Yellow - is often ascribed to the color of royalty in a number of Asian cultures. It can be used as a featured wall with accents of white and green accessories to set the color apart. Yellow is associated with feeling of calmness; and is normally used in bedrooms to create a sense of tranquility.

Painting Tips for Asian Themed Rooms

1. You must choose colors that evoke Asian style like Chinese red for a dramatic look; or delicate colors like yellow for calming ambiance. You must avoid using too many colors in a bedroom since an Asian setting is generally known for its elegance and simplicity.

2. Use feng shui principles in choosing color combinations. Yin signifies calm and tranquility. Examples of this color would be: blue, purple, green, white and metallic hues. Yang signifies warmth, energy and general well-being. Examples would be yellow and red.

3. Painting of walls should be simple and uncluttered, which characterized Asian motif. You can paint three walls in pale color and the focal wall in a deeper shade of that same color.

4. The trim is given importance too. You can use white for a classic look; or black for drama. Black trims should be painted at semi gloss to give it a lacquered look.

5. Pearl and metallic finishes are characteristics of Asian decor with Yin characteristics.

6. You may want to add textured faux painting on the walls to add depth to it. This may be paired with furnishings with simple construction to make it stand out.
Also Read:

The Benefits of Painting Our Home

E Home Services - One Stop Home & Office Solution

Choosing Aluminium or Wrought Iron Window Grilles

How to select a reliable interior design company in Singapore

Benefits Of Bamboo Flooring

Selecting Carpet For Offices

What Are The Benefits Of Installing Curtains And Blinds In Your Home?

What You Should Know About House Painting Service

7 Tips On Choosing Ceiling Fan With Lights

What Are The Different Types Of Window Grilles in Singapore?

Why Some Aircon Have Musty Smell & How To Remove it?

How To Remove Carpet Stains?

Singapore Leading Painting Company